By Aynsley Dueck, Duxton Windows & Doors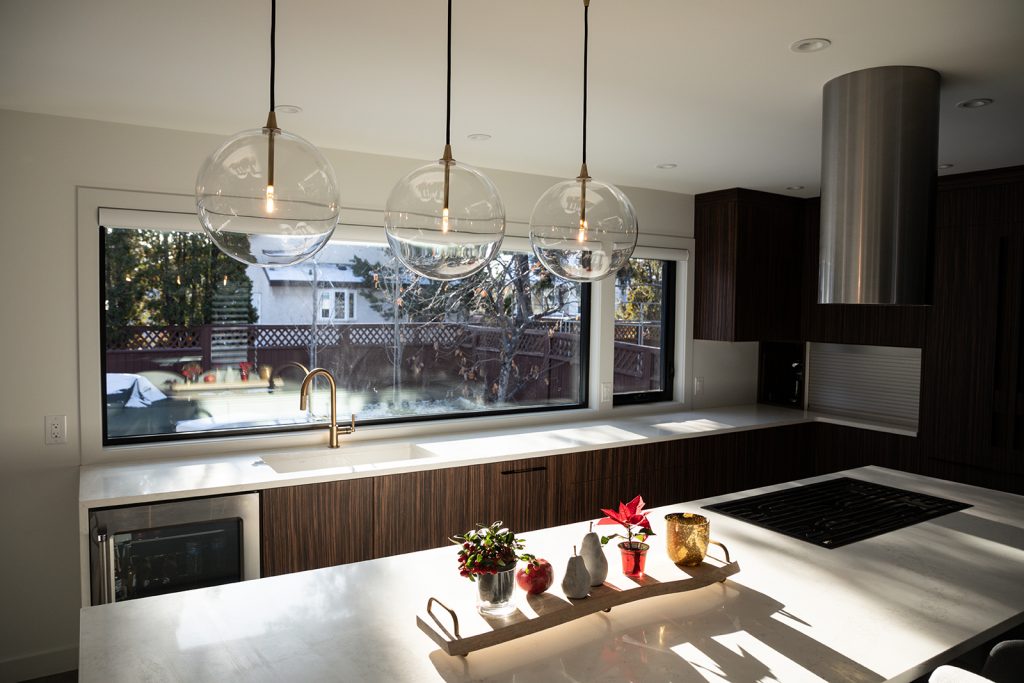 Homeowners Damaris Lehmann and Greg Klassen wanted to move into their "forever home". They were searching Lindenwoods, Tuxedo, and Charleswood, for the right home. Although they were ready to invest in a high-quality home, they found that the homes on the market all needed substantial renovations to achieve the look they wanted. Most of the homes, built in the 1980s, had smaller, darker rooms, smaller windows, and more traditional finishes.
In the end, they decided to stay in their current home, and invest in a complete makeover. They hired interior designers, Everitt Design to help them achieve this goal. Everything was redone: interior walls were removed for an open concept living space; two bedrooms were combined into one master bedroom; the ensuite was relocated and enlarged; the roof was reinsulated; the basement stairway was reversed; window openings were enlarged; and every finish was replaced, including flooring, drywall, cabinets, and fixtures.
The vision began with a picture that Re/Max realtor Damaris Lehmann found on Instagram. She loved white and black: white walls, black interior windows, concrete-look floor tiles, and hardwood floors. The gold faucet is striking and stands out against the black window frames, while the beautiful light fixtures complement the look, without blocking the view.
The large format window over the sink, at 9' wide, makes the kitchen feel even more special and unique. Interior designer Rob Everitt, of Everitt Design, notes the benefits of fiberglass windows for the energy efficiency and ability to manufacture these big sizes.
"Bringing the window sill all the way down to the counter has a major impact, instead of having it 6 to 18 inches above," comments Everitt. "You feel like there is less of a distinction between indoors and outdoors; plus if you're shorter, you can see out the window much better."
The main goal was to have everything as bright as possible. Huge windows, and the ability to see through to the yard all the way from the entrance. To achieve the look while maintaining energy efficiency, they selected fiberglass triple pane with two Low-Es and argon gas fill.
"People are wowed when they see the big windows," notes Lehmann. "It is such a dramatic change, because it was so dark before, and now there is so much natural light."
The 14 x 6' stretch of windows in the living room truly accomplish bringing the outside in. The window frames and very slim, and modern in design, which keep the focus on the view outside.
In the yard, they have plans to create a Zen space, with a new deck, fireplace, and hot tub. With no cottage, and recent Covid-19 travel restrictions, their home is where they want to enjoy their time. To live, and to entertain, in a really beautiful and relaxing space.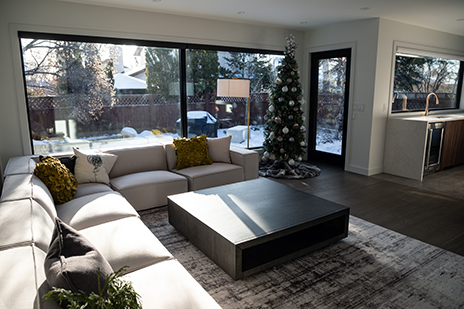 Another feature of note is their use of a disappearing screen on their deck door. This allows them to fully open the door, and let in lots of fresh air. But when the screen is not in use, it rolls away out of sight.
From street view, the home also underwent a transformation, although more subtle. Designer Rob Everitt was able to tie in the beautiful Tyndall stone into a more contemporary look, with new large house numbers, wood paneling, a sleek exterior light, and streamlined windows.
"The three windows were not doing anything for the design. When we removed those and combined them into one really big window, it had a huge impact," says Everitt. "With a great tradesperson redoing the Tyndall, you can't even tell where the changes took place."
For the front door, Lehmann again took inspiration from Instagram. She selected a contemporary black entry door, with frosted glass that matched their interior doors and closet doors. For the front windows, they selected blinds that easily switch between transparent and opaque, for the option of privacy.
Exterior Before
Exterior After
The results are absolutely stunning. And encouraging. All of those older homes have so much potential with the right vision and design professional. You can stay in your current home AND live in your dream home. You can have your cake and eat it too!
Credits: RE/MAX Performance Realty; Everitt Design; Darrin Hopkins Contracting; Brak Impex Ltd. (Concrete).
For a free estimate for replacements in Winnipeg, visit: www.prairiewindows.com